If you don't following volleyball, then you might not know that the Penn State Women's Volleyball team has been breaking records over the past 4 season.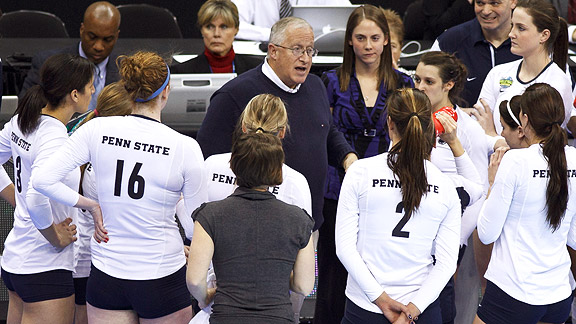 This season, they became the first team ever to win four national championships in a row. Last year, the were the first team to win three in a row.

Their coach, Russ Rose, became the first coach to win five NCAA titles.

I have a lot of respect for Russ Rose. He knows how to get results. He understands that it take all kind of players to make a team.

Penn State coach Russ Rose: Developing character ... and characters - espnW

"I'm different than a lot of other people. I'm not judgmental in any way on anything. People might avoid kids that don't look like they play well with others or have eating issues or sexuality issues. I don't care about those things. The world is made up of a lot of different groups. If you want to go somewhere and do something, you can do it here."

"I think you can only be your best when you're the most comfortable. If you have to live in a closet, life's really hard. You're alone. Life's tough enough when you have to interact with people. It's really tough if you have to do it alone."

After reading this, my respect for him grew even more.
I wrote an email to "Coach", congratulating him on the win. He responded with a nice note.